July 16th, 2021
Our Favorite Must-Have Features for any Backyard Entertainment Space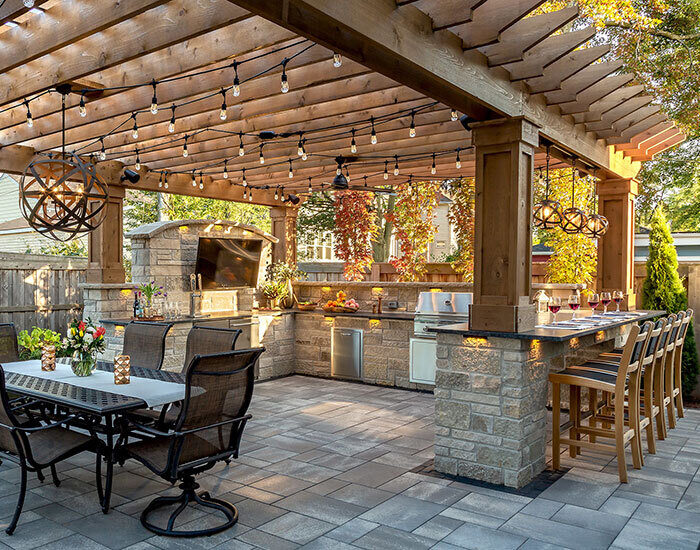 4th of July barbecue season might have come to an end, but it's just the beginning of a summer filled with outdoor get-togethers with friends and family. After a year of isolation, it's time to dust off those cushions and turn your backyard into the go-to place for all of your long-awaited gatherings.
Use your backyard as a way to extend your home beyond its four walls. Whether you're planning to develop an outdoor entertainment space or want to spruce up the one you have, we've gathered a few of our all-time favorite backyard amenities that make any outdoor space the place to be.
A kitchen that brings out the chef in everyone
Grill, mini bar, pizza oven – why choose when you can have it all? An all-inclusive kitchen space makes preparing food an experience for everyone. Outdoor kitchens are now more than ever able to be customized to your wants and needs so that you can prep meals and entertain friends and family at the same time.
Shade for those hot summer days
Just because the sun is hot doesn't mean your guests should be. Whether it be a pergola, canopy or just some tall trees, shade is essential to every outdoor space. Not only do overhangs block the sun but they create a sense of coziness, making these features a great addition to any backyard.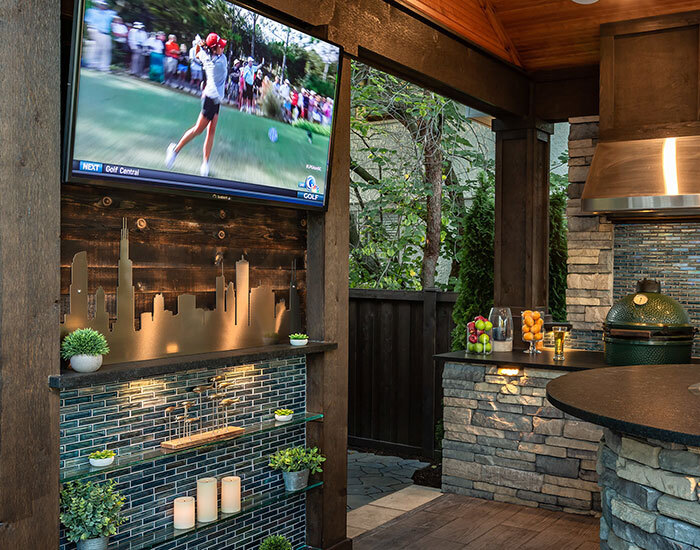 A place to watch the game
Sports are back and so are viewing parties. Allow your guests to enjoy great weather AND a great game with our favorite way to watch a sports game: on an outdoor TV. A patio entertainment center seamlessly connects your backyard to the rest of your house so that watching the game is both fun and comfortable.
Spaces for relaxing
Give your friends and family a place to kick back and enjoy good conversation and company. Add outdoor sofas and tables to your backyard or even spice it up with hanging chairs and hammocks. Allow your backyard to be a place of enjoyment as well as excitement.

A game area that keeps everyone entertained
One of our new favorite backyard trends is game areas. Start small by putting out some games of cornhole and bocce or go big with a life-sized chess set. Whether you have kids or not, these recreation areas create conversation (and competition) between everyone!
Privacy – but make it pretty
Make your space your own by adding a sense of privacy to your backyard. While doing this can be challenging, it makes all the difference to an outdoor aesthetic. One of our favorite ways to keep things personal is by turning a privacy fence into a wall garden. These vertical gardens can house flowers, vegetables or spices while creating the privacy you need.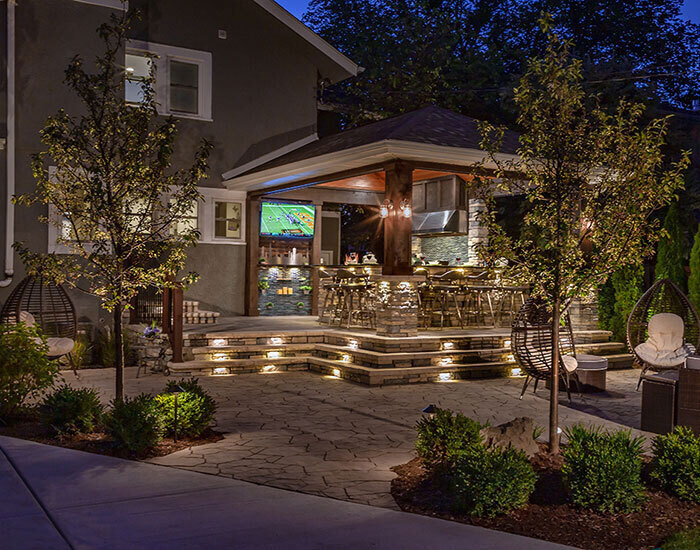 Glimmering lighting
Don't let the party end when the sun sets; add plenty of lights to keep your backyard alive at all times. From floor lights to guide walkways to stringed lights to enhance the space, unique backyard illuminations will amplify every get-together.
So what are you waiting for? Get some burgers on the grill because it's time to celebrate summer 2021 the only way we know how: outdoors!
Still need some help getting your backyard ready to entertain? Reach out to us at Premier Outdoor Environments to find out how our custom outdoor solutions can make your dreams come true or visit our recent projects gallery for more inspiration.