The 11 Best Flowers for A Flawless Fall Landscape
August 19th, 2021
Although our trees are still green and football season hasn't quite started yet, it's time to start thinking about transitioning your landscaping for fall. As the weather gets colder and your garden is starting to look a little tired, there's no better time for a quick touchup to keep your yard vibrant.
Our favorite way to spice up a dull yard is through fun autumn flowers. By adding to bare spots or replacing flowers that won't survive the cold, we have collected 11 of the best plants to include in this season's landscaping.
Chrysanthemums
You can't go wrong with including mums in your fall garden. With so many colors and shapes to choose from, this flower adds spurts of color while withstanding frigid temperatures.
Black-Eyed Susans
These beautiful flowers are tougher than they look. Capable of tolerating up to -35°F, there's a reason they're so popular.
Coreopsis
Able to handle both hot and cold temperatures, coreopsis are a low-care essential for any garden. Their colorful flowers are a great add-on for transitioning to this next season.
Blanket Flowers
Blanket flowers are considered long-lasting perennials that can bloom for months at a time. The flowers are often multi-colored and add texture to any outdoor space.

Flowering Cabbage
Leafy and luscious, cabbage is arguably one of the best fall landscaping additions. Their unique look and functionality are sure to bring in compliments.
Monkshoods
Add some blues and purples in your garden with monkshoods. Because they can grow up to eight feet, they are perfect for the backs of beds or against fences.
Sneezeweed
Big and beautiful, sneezeweed flowers stand out with decorative warm tones. Their pops of color make them a great accessory to any landscape.
Pansies
Providing a cool-season hue, these fall flowers are very versatile. While old-fashioned varieties tend to grow in tiny mounds, newer blooms create ambiance in pots and border edges.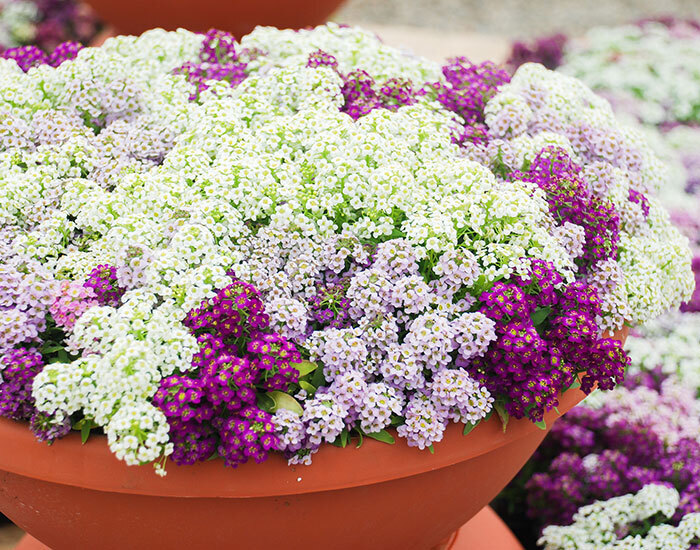 Purple Fountain Grass
This ideal accent piece pairs well with other colors and provides a unique touch to every fall bed. You really can't go wrong with adding these cool-weather plants.

Sweet Alyssums
Sweet alyssums' beautiful fragrance is just one of the reasons we love them. Dainty, colorful and perfect to fill up space, their fall bloom can't be topped.
No matter how you decide to prepare your landscaping for fall, be sure to choose plants that add to its existing aesthetic. Do your research and don't forget to be creative. Make the most of the change in seasons with a new update to your outdoor space.