Celebrating Summer Solstice in Your Backyard
June 20th, 2022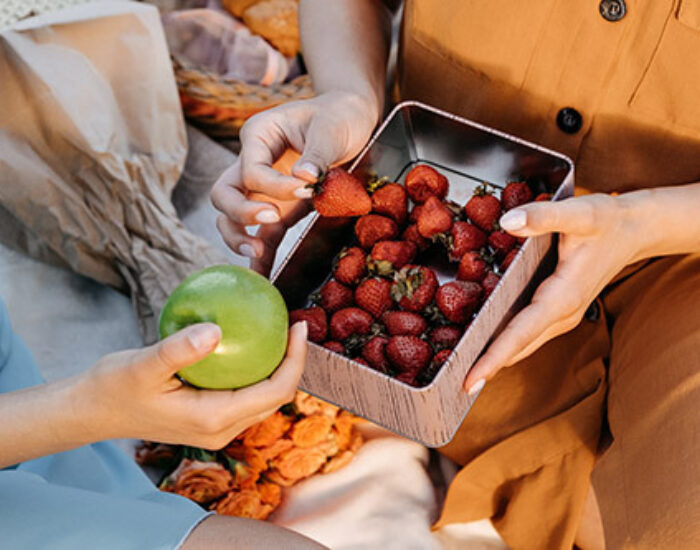 Headed to the pool? Taking in the scent of backyard BBQ? That's right… summer is finally here! On June 21st, the Summer Solstice, otherwise known as Midsummer, will be celebrated by people all across the globe. It's the longest day of the year, the first official day of summer, and the perfect opportunity to kick off the season. Need some inspiration for your own celebration? Look no further!
Produce Potluck
The structure of your solstice celebration is not nearly as important as sharing the experience with friends and family. A core aspect of this celebration is inspired by summer as a time of abundance – the flowers are in bloom, the fruits are ripe… there is enough to share with the people who bring sunshine into your life.
In Celtic tradition, fruits like peaches and oranges that are sun-shaped and warm in color are traded to symbolize friendship and celebrate good fortune. While oranges aren't typically grown in the midwest, why not have your own produce potluck and share what grows in your own garden? Strawberries, tomatoes, lettuce, summer squash, and a variety of other edibles thrive in the early summer sun.
Animal Watching
Humans aren't the only ones who love to celebrate summer. Many animals we can spot from our backyards are just here to visit while the weather is nice. Engaging these travelers is easy and if you are an animal lover, inviting them to celebrate summer with you could be a fun activity. Setting up a hummingbird feeder or a Butterfly Garden will bring in frequent flyers. Have pets of your own? Invite them out to play with a DIY Pet Olympics set up and design a dog-friendly dining menu for the winners.
What does Summer Sound like?
If summer had a soundtrack, what would it be? Waves breaking on the shore? Fireworks and laughter? Whether the sound of summer thunderstorms keeps you awake or helps you sleep, capturing the ambiance of summer with a playlist is a perfect way to invite the season in. Many streaming services even allow users to create collaborative playlists so you can make a mix that everyone will enjoy.
From Midsomer Fest in Sweden to The Ottawa Indigenous People's Festival in Canada, the solstice is often celebrated with music and movement as a way to symbolize the bright energy that summer brings. If you have instruments, it may be exciting to partake in a community drum circle or host your own. Don't be afraid to make noise… as long as the neighbors are invited!


The Midnight Sun
The importance of the bonfire as a midsummer tradition makes a lot of sense. Not just because it keeps mosquitos away, but because in the northern hemisphere, even though the sun is out for 24 hours during the solstice, the sky is still dark! In areas like the Arctic Circle and Stonehenge, celebrations are meant to last all night – until the sun goes down. While the continental United States doesn't experience the same phenomenon, this is the perfect day to stay up a little later. If you have children around, inspire them to help build a fire and make some s'mores!  
Cultural Exploration
Many communities schedule festivals, art fairs, and other fun community activities around this time and it's no coincidence. For centuries, this season has been recognized as the prime time to celebrate the essence of summer by getting out and about in your community. Interested in learning more about the Summer Solstice in a new light? Tune in to the annual 24-hour baseball game held in Fairbanks, Alaska during the dawning of the "midnight sun", watch dragon boat races in China. If you have an outdoor projector, streaming the amazing cultural events happening around the world could be an awesome way to top off your own celebration.
Whether you're a foodie, animal lover, bonfire enthusiast, or just want an excuse to listen to good music with good people, observing Summer Solstice is a great way to start off this season. Happy Summer!